Housing
Housing
Rotterdam is becoming more and more popular. Therefore it is wise to find a place to live as soon as possible, we advise May/June. There's hardly a campus system in the Netherlands and students are responsible for their own housing.
Housing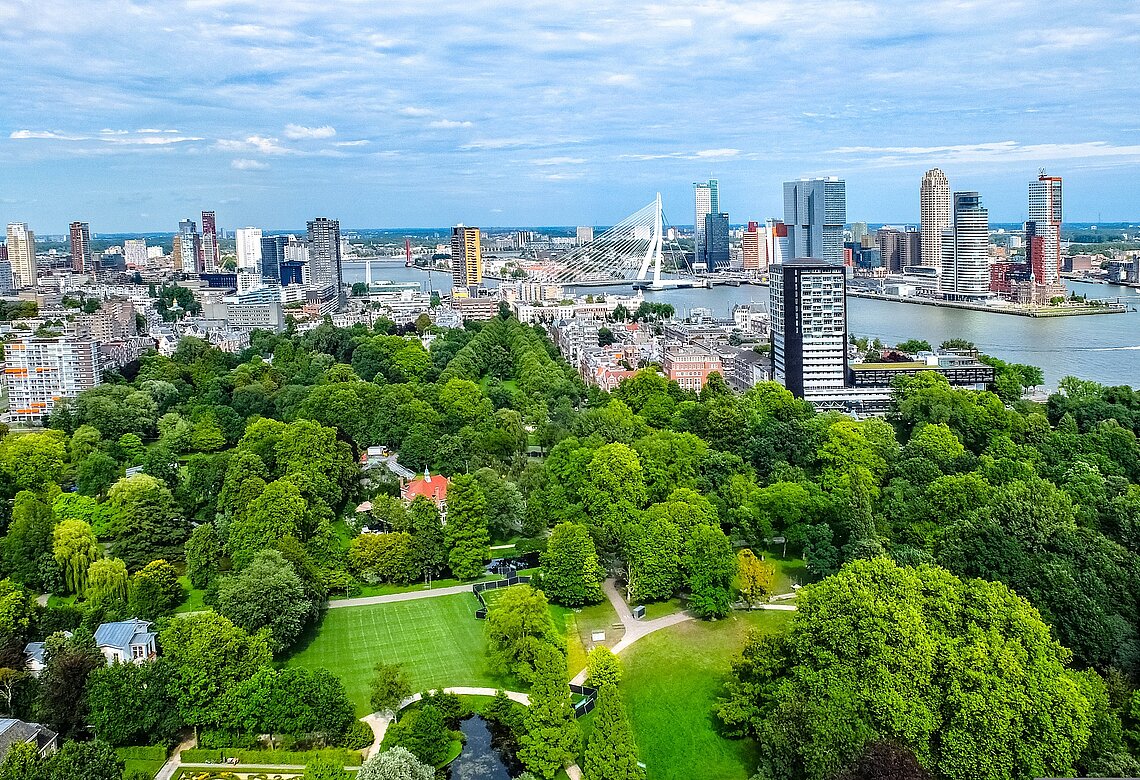 How do I find accommodation?
The possibilities for Codarts to arrange housing for students either directly or indirectly are very limited. Being able to find a room partly depends on having a local social network. This is of course hard to initiate and manage from abroad. The longer you stay in Rotterdam and the more people you will get to know, the easier it gets to find housing.
It's good to know that in the Netherlands there is a short-supply of studios and small apartments. Most accommodation in Rotterdam is by means of a flatshare, whereby all flat mates have their own bedroom, but share the bathroom, toilet, kitchen and (when applicable) the living room. The Netherlands is a modern and liberal society, people with different genders do live together in such flatshares (if you prefer not to, make this known).
Recommended areas to find a room close to Codarts Rotterdam are: Blijdorp, Centrum, Kralingen, West, Noord, Delfshaven / Coolhaven.

Housing Anywhere
Finding accommodation in Rotterdam can be a challenge. For this reason, Codarts has partnered with HousingAnywhere to make sure you can book your room with priority and in complete safety. Pick the subscription you prefer, safely contact all the landlords you want and book your favorite accommodation. You can also use HousingAnywhere to offer your room to an incoming student during your time abroad. In this way, you avoid paying double rent and you can move back into your place upon your return. Signing up with this link, you will receive priority access to all rooms available.

Keep in mind: The housing market in Rotterdam is very seasonal. So if you don't find a room listed right away, check back regularly.

Do you need more information or have a specific question? Send an email to vip@housinganywhere.com and be treated with priority!

m2 Student Housing
As stated, Codarts is very limited in arranging housing for students. Besides that, Rotterdam has become a popular student city, pushing up demand and rents.
However, we try to help our students wherever we can, and in doing so, we have found a reliable partner in m2 Student Housing. This platform offers flatshare apartments at no commission costs.
Upon enquiry with m2 Student Housing, state clearly you are a Codarts student. Extra help and time will then be offered to you in selecting your housing as close as possible to Codarts.

Additional help
Of course there are plenty other options to look for accommodation. We have listed valuable housing tips and housing tips by students to give you more information about other housing options in Rotterdam.

For questions about your search for suitable housing, you can contact housing coordinator Lucas Arango from June to September, via housing@codarts.nl.

Costs
Housing is not cheap! The rents vary between €500 and €800, and additional costs are not always included! Read more about the additional costs.
Depending on your financial situation, you might qualify for housing / rent benefit. This is a subsidy provided by the government to residents on a low income with high rental costs. More information can be found on the website of the Dutch government and tax authorities.
Rental agreement
There are many websites offering and promising you their best services. Please be aware of the fact that not all agents or landlords can be trusted. Scams and illegal housing are part of reality. If you have any doubt or questions about the contract, your rights as a tenant or the rules and regulations, you can contact the Housing Hotline for advice, or contact the Codarts student counselor Anne-Margriet Klaver via decaan@codarts.nl. Please read the contract tips about what to look for in a contract before signing (below).

Housing permit
To live in certain neighbourhoods in Rotterdam you need a housing permit (HVV). This means that as a tenant you need permission to make use of a rental house.
It concerns the following neighbourhoods: Carnisse, Hillesluis, Oud Charlois, Bloemhof, Tarwewijk and the following streets in Delfshaven: Grote Visserijstraat, Mathenesserdijk, Mathenesserweg, Schiedamseweg, Willem Buytewechstraat, Vierambachtstraat, 's-Gravendijkwal, 1e Middellandstraat, 2e Middellandstraat and Middellandplein. More information about this can be found on the website of the gemeente Rotterdam. Are you renting a house for which you will need a housing permit? Please make sure to contact the international office of Codarts before the beginning of the school year. They can help you with this.