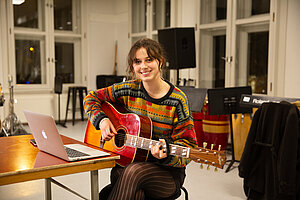 Do you have an artistic talent, as well as a hunger for academic knowledge? You can mix arts and academia in metropolitan Rotterdam. Codarts and her partners from the Rotterdam Arts & Sciences Lab offer you the possibility to combine theory and practice in a five-year Dual Degree programme.
Choosing a combination with IBACS allows you to dive deeper into the world of Art, exploring fields such as the History, Policy and Economics of Art, Aesthetics and of course Research Skills. You will become not only a skilled artist, but also be thoroughly acquainted with the workings of the art world, opening up a wide range of professional possibilities in the cultural sector.
Choosing EUC allows you to choose your own major from four fields of study: Life Sciences, Social and Behavioural Studies, Economics and Business, and Humanities. If besides music you have a specific interest in, for example, psychology, politics or biology or if you are looking for a programme that allows you a lot of freedom in designing your own study path, then this is the programme for you.
At Codarts the following majors participate in the Dual Degree:
After completing the Dual Degree programme, you will receive two bachelor degrees: one from Erasmus University Rotterdam (Bachelor of Arts or Bachelor of Science, depending on your programme and major) and one from Codarts.
Where arts & science meet
What?
The Dual Degree programme allows you to simultaneously develop your artistic talent and your academic ambitions. You will have the option to combine the Bachelor of Music with one of two programmes at Erasmus University:
Why?
We believe that today's world needs multidisciplinary experts who can address complex and multidimensional challenges. Your artistic practice will benefit from your contextual knowledge, critical view, and research skills – and vice versa: your theoretical work is fuelled by your creative mind-set and artistic experience. You will be able to build a future practice with two separate jobs, but you can also integrate both fields.
The RASL Dual Degree is a challenging programme. You need to be able to shift your attention between study programmes, get a thrill out of navigating two different institutional and social cultures, be a star in time management and, most of all, you need to have a true appetite for both the artistic and the academic. If that sounds like you, then this is the programme for you!
How?
In order to make it possible for you to simultaneously study in two different programmes, we align both programmes in terms of schedules, making sure you will not have classes at Codarts and EUR in the same time slots. We also align the programmes in terms of competencies. By eliminating any overlapping content, we have reduced the study load of both programmes, creating a combined programme of five years. Each study year in the Dual Degree programme consists of around 60 EC, which is the same number as a regular Bachelor programme. Over the course of these five years you will be studying at both institutions simultaneously, keeping you rooted in both practices during your entire studies.
Who?
The programme is offered by the Rotterdam Arts & Sciences Lab (RASL). RASL is a collaboration between Erasmus University Rotterdam, Willem de Kooning Academy and Codarts. The mission of RASL is to exchange knowledge on education and research and also to offer students the possibility to develop their skills in relation to the changing artistic professional practices and societal issues.
Anna Rehling is a student at the Bachelor of Music / Pop songwriting programme of Codarts Rotterdam and a student Liberal Arts and Sciences at Erasmus University College - Erasmus University Rotterdam.