Percussion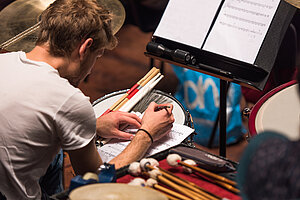 Classical Percussion at Codarts has a rich history. Ever since Codarts (then Rotterdam Conservatoire) was founded in 1930, many of our alumni have become renowned top percussionists. They work internationally with well-known orchestras and win prizes in various competitions. We hope that this will inspire you and that you see it as an invitation to step in their footsteps.
Why study Classical Percussion at Codarts?
We concern ourselves with the craft of classical percussion and with the tradition from which it stems. Of course you as a student take centre stage in this. Because harmonious collaboration among students and between students and teachers is of crucial importance for the development of our students, we really focus on this from the start until the end of the study programme.

We look beyond boundaries and are broadly and internationally oriented. With us you are taught by specialists, each of them experts in their own field in the present-day percussion practice. Our team of teachers is composed in such a manner that we can coach you in any personal ambition you may have.

We guarantee quality. You will be trained to become a professional musician and we challenge you to be the best musician you can be. In addition, you will be prepared to face all aspects of the national and international professional practice.
Programme
In the percussion department, the two main subject teachers Chris Leenders and Ramon Lormans are in charge of the weekly lessons in which you work at basic skills on orchestral instruments and marimba. Chamber music, solo and orchestra repertoire are regular elements within the study programme.

In the Master's phase you create your own profile by constructing your own curriculum, which becomes more profound through research. You can optionally make crossovers with other disciplines at Codarts, for example world music and music theatre.
Teachers
Main subject teachers
Chris Leenders - Section representative percussion, orchestra play, timpani, side drum, contemporary music, percussion ensemble
Ramon Lormans - Main subject teacher marimba, vibraphone, contemporary music, mallet-ensemble

Regular guest teachers
Murk Jiskoot - Hand percussion, African music, congas
René Spierings - Music theatre
Martin Ansink - orchestra percussion
Fedor Teunisse - contemporary music, setup
Jorge Sanz - Hand percussion, Latin
Job van Duijnhoven - Snare drum technique, rudimental snare drumming
Nicolas Suter - Artistic development coach, contemporary music, duo-play
Friso van Wijck - Drums
Oké Sène - African music
Bart Jansen - Timpani
Contact
Interested? Mail mail your questions to classicalmusic@codarts.nl.