Organ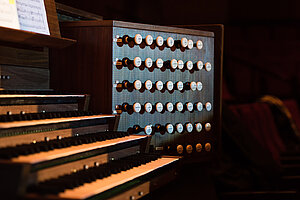 Discover the richness of education as a musician and organist of the future. Everything you need as an organist in concert life and career, in church services and education, you will find at the Organ department of Codarts Rotterdam.

Why study Organ at Codarts?
The tradition of Organ study at Codarts Rotterdam (the former Rotterdam Conservatoire) has been extraordinary since 1930. Among the main subject teachers of the past are Arie J. Keyzer, Bernard Winsemius and Ben van Oosten.

Our organ alumni hold many of important positions in churches. Not only because they are excellent players, but also because Codarts is the institute where you can obtain a Bachelor's degree that allows you to become a professional church musician (valid in the Dutch protestant and Roman Catholic church).
Many of our alumni are very much in demand as concert artists performing all over the world. At Codarts you are part of this extraordinary concert tradition. You also benefit from lessons in transcription, improvisation, new ways of interpretation and new ways in organ culture.


Programme
You're provided with numerous opportunities to prepare yourself for a multifaceted career as a concert performer and teacher. You attend classes in ensemble playing and in improvisation, but also in organ history and organ building, arranging for organ and church music.
We organise project weeks with interesting (international) excursions, for instance to St. Ouen, Rouen, Haarlem Philharmonie, Orgelpark Amsterdam and to organ manufacturing companies. And of course, we train and prepare you for national and international organ interpretation and improvisation competitions.
On a regular basis, there are masterclasses given by world-renowned organists: Ben van Oosten, Michel Bouvard, Olivier Latry and others. Every November we offer masterclasses in Ratingen, together with the universities of Cologne and Saarbrücken. You will meet the organist of Notre Dame de Paris, Prof. Vincent Dubois, Zuzana Ferjencikova and invited professors on specific repertoire and interpretation issues.
The organ curriculum allows you to take minors in, for example, choir conducting or harpsichord. Also, you can take minors with other departments of Codarts such as World Music or Jazz. As a master student, you can take optional classes in the art of transcription and improvisation in the 20th century.
We offer regular teaching on wonderful organs in Schiedam (Flentrop, Maarschalkerweerd), Den Haag (Bätz, Gebr. Franssen), Haarlem (Müller), Delft (Bätz/Witte) and the Grote Kerk Breda (1534/1969).
Furthermore, a wide range of historical instruments are available for weekly lessons, performances, and regular practice by builders such as Cavaillé-Coll, Müller, Schnitger and Walcker. Also, harpsichords by Crijnen, Moermans and Klinkhamer are at your disposal.


Teachers
Erik Zwiep - Department representative organ
Aart Bergwerff - Main subject teacher organ, organ building, arranging for organ
Zuzana Ferjencikova - Main subject teacher organ
Christian Schmitt - Main subject teacher organ
Bas de Vroome - Main subject teacher organ, basso continuo, didactics
Ben van Oosten - Honorary lecturer
Hayo Boerema - Improvisation
Arie Hoek - Church music: cantorate, hymnology
Hanna Rijken - Church music: liturgy
Connie de Jongh - Voice
Marcel Zijlstra - Gregorian chant


Contact
Interested? Mail your questions to organ@codarts.nl.