Healthy through the winter with a winter salad
In my practice, I (Sandra, dietician at Codarts) often see students who follow a vegan or mostly vegetable diet. They wish to check whether they take in all the nutrients they need. It is certainly wise to pay attention to this. It's actually good advice for anyone, but also for vegetarians, flexitarians, and meat lovers.
If you eat mainly or completely vegetarian, there are a number of nutrients to keep an eye on. They are proteins, iron, calcium, zinc, vitamin B2, and vitamin B12.
All of these you can easily obtain within your diet (see tips at the bottom of the recipe). The only one you should supplement if you are a vegan is vitamin B12. In addition, it is advisable to take a vitamin D supplement in the winter months, but this goes for everyone, regardless of their diet.
This recipe contains all the nutrients mentioned earlier, in hefty doses. That doesn't mean that with this recipe you get everything you need in a day, but it's a very good start.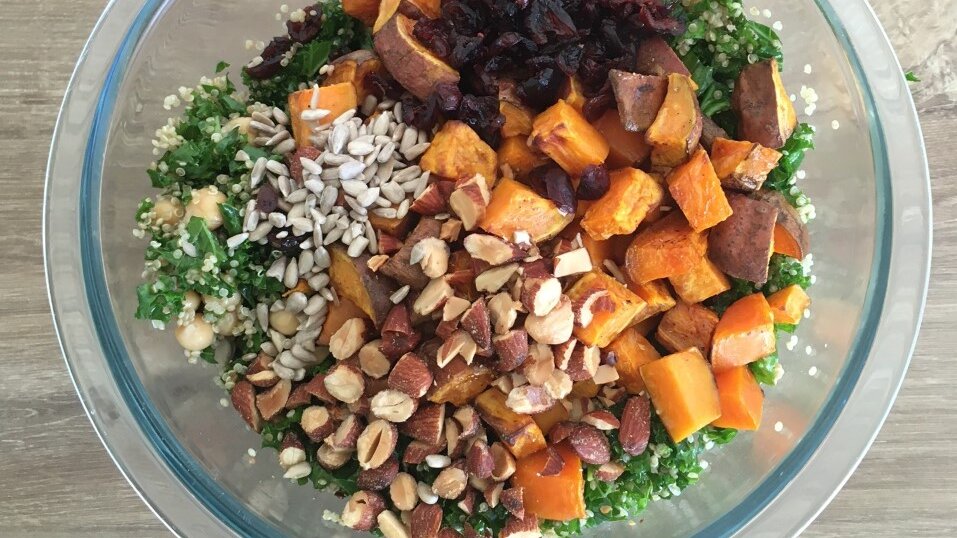 Winter salad
Ingredients for 2 servings
300 gm sweet potatoes
100 gm curly kale
1 medium-sized can chickpeas (ca. 220 gm net weight)
100 gm quinoa
40 gm smoked almonds
2 Tbsp. pumpkin seeds
40 gm dried cranberries/raisins
1 Tbsp. olive oil
1 Tbsp. virgin olive oil
2 Tbsp. balsamic vinegar
2 Tbsp. orange juice (self-made or bottled)
1 Tbsp. agave syrup
How to make it
Preheat the oven at 200 degrees.
Wash the sweet potatoes. You can peel them, but is not necessary. Cut them into blocks of 1 x 1 cm. Mix them with 1 Tbsp. Olive oil, add salt and pepper to your liking, then bake them in the oven for 25 minutes.
Cook the quinoa according to the instructions on the package.
Soak the cranberries in a bit of warm water.
Put the kale in a bowl, add 1 Tbsp. of olive oil and rub it into the kale to make it a bit softer.
Drain the chickpeas in a sieve and rinse them with cold water. You can also use dried chickpeas and cook them yourself (follow the instructions on the package).
Chop up the almonds into small pieces. Drain the cranberries and chop them up as well.
Make the dressing: mix the balsamic vinegar, orange juice, and agave syrup.
Put all of the ingredients together, and that's it! Enjoy!
Nutritional value for 1 person
737 kcal
23 gm protein
78 gm carbohydrates
34 gm fat (4.5 gm saturated fat)
Lots of: calcium, magnesium, iron, zinc, vitamin A, B1, B6, C and folic acid.
General tips for a full-fledged vegetable diet
Eat vegetables, fruit, whole grains, legumes, and nuts/seeds on a daily basis. Vary this by choosing different kinds of these over the course of a month and throughout the year.
Supplement your diet every day with at least 1-2 helpings of vegetable dairy substitutes (with added calcium and vitamin B12) such as soy and oat drink, or soy yoghurt. Students of dance and circus art are advised to choose especially products based on soy and peas as these are the richest in proteins.
Generally speaking, you need to eat more of a vegetable diet for sufficient energy. Therefore, you should eat ample helpings with every meal.
Take a vitamin B12 supplement: 2 times a week 1000 mcg cyanocobalamin or 25-50 mcg on a daily basis.
If you want to learn more about vegetarian food, I highly recommend the website and podcast www.plantproof.com.
And of course you can always come to me with any questions.
Enjoy!
Sandra