Perfect for fall - This dish has everything in one. First and foremost, of course, it is healthy. The vegetables and chickpeas are packed with fiber, vitamins and minerals. In addition, it contains enough protein so your muscles can recover well after an intense day of studying. And this stew is climate-proof because the recipe is completely plant-based and full of seasonal vegetables. Win-win-win!
What's also very nice is that you can prepare a big pan of this dish and eat it several times. You can choose and alternate the carbs source in the dish, for example whole wheat naan bread/flatbread, whole wheat tortillas, brown rice or whole wheat couscous. By the way, if you want to gain some weight or have had a physically very intensive day, you can also combine it with carbs. For example, naan bread and rice.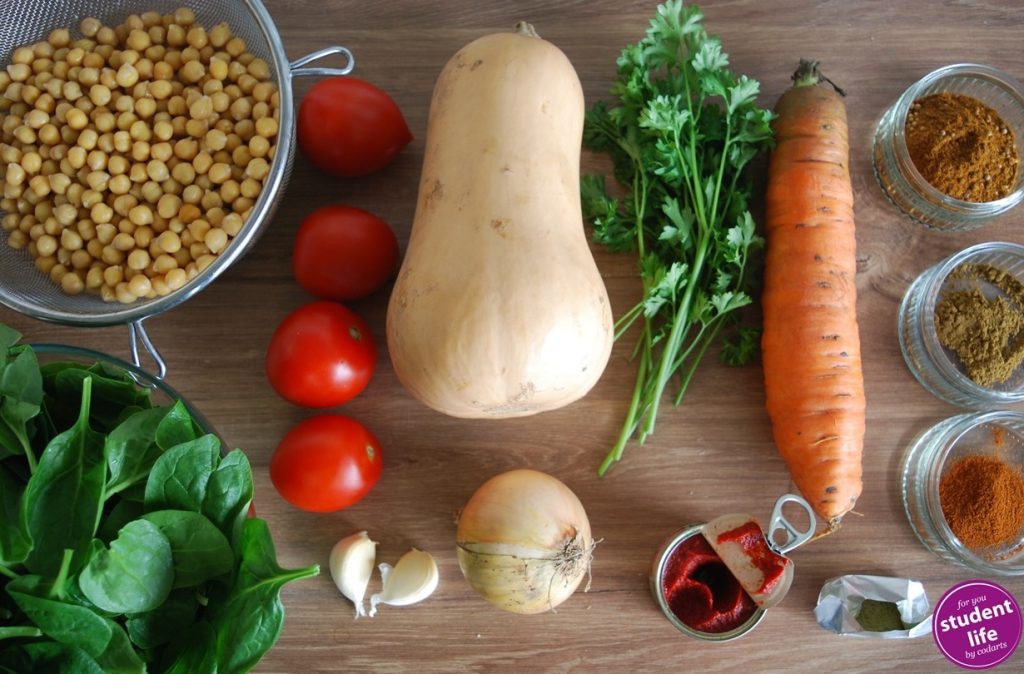 Recipe
Preparation: 45 minutes
Servings: 4
Ingredients
1 (butternut squash) pumpkin
1 carrot
4 tomatoes
100 grams fresh spinach
1 onion
2 cloves of garlic
2 medium cans of chickpeas (about 300-350 grams each)
1 small can of tomato puree
1 vegetable stock cube + 200ml water
3 tsp ras el hanout spices
1 tsp cayenne pepper
1 tsp cumin
fresh parsley
oil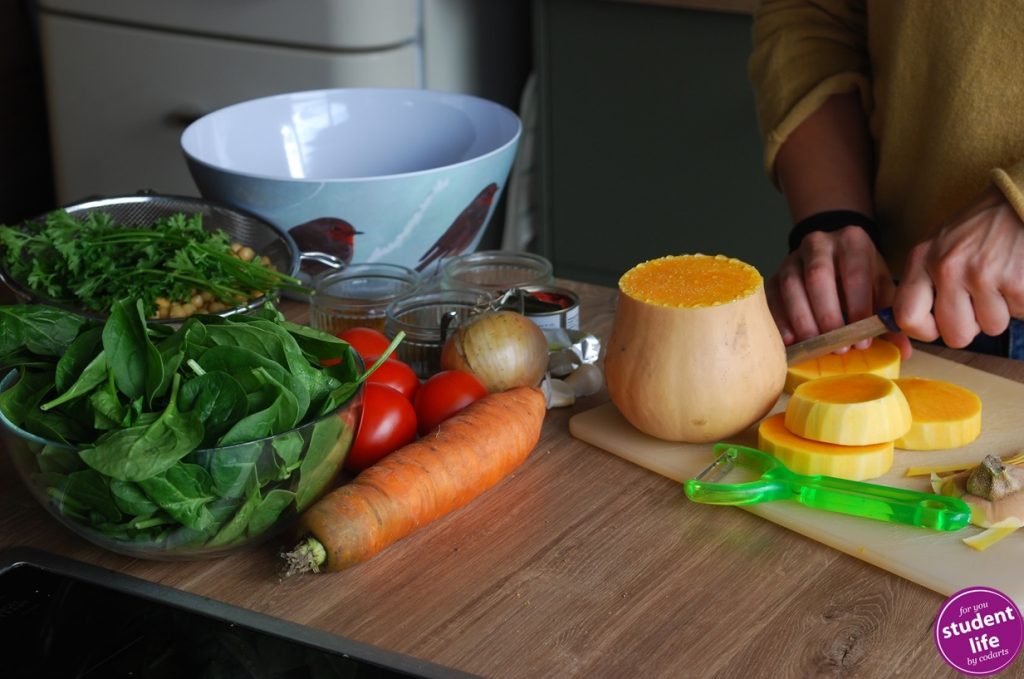 Preparations
Peel and dice the pumpkin and winter carrots. Peeling is easy with a potato peeler or cheese slicer.
Cut the tomatoes into cubes.
Finely chop the onion and garlic.
Put a little oil in a large pan and sauté the onion for a minute. Then add the garlic and dried herbs and sauté for another minute.
Add the carrots and tomatoes and fry for a minute.
Add the pumpkin, tomato paste and broth.
Let the stew cook for half an hour on low heat (with the lid on the pan; that saves energy). The stew may remain slightly moist. If necessary, add a little extra water.
Drain the chickpeas and add them to the stew for the last 10 minutes. You can, if the dish contains a lot of water, take the lid off the pan now to allow some water to evaporate.
For the last 5 minutes, stir the fresh spinach into the stew.
Serve the stew with parsley, possibly a little pepper and whole wheat naan bread, whole wheat tortillas, brown rice or whole wheat couscous (prepare according to instructions on the package).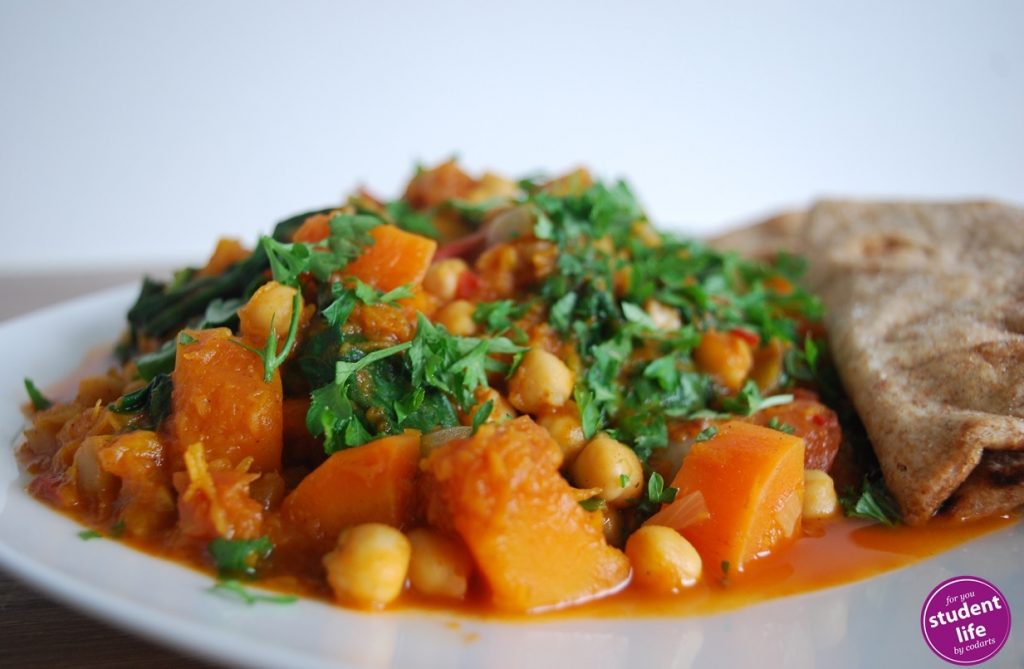 Nutritional values
If you combine this recipe with 100 grams of whole wheat bread/flatbread/naan/pita/tortilla, it contains the following nutritional values:
Protein: 23 grams - To recover properly, 20-30 grams of protein per meal is recommended.
Iron: 5.7 mg - This is a lot! A man needs 11 mg per day, so with this recipe you are already at 52%. For women, 16mg per day is recommended. For a woman, this meal provides 36% of the daily recommended amount of iron.
Folic acid: For both men and women, it is recommended to take 300mcg of this daily. This recipe contains 225mcg of folic acid, which is 75% of the recommendation.
Vitamin A: Men are recommended to take 800mcg and for women it is 680 mcg. Many orange-colored vegetables provide a lot of vitamin A, so this recipe contains a lot of it. You will get 590mcg with one serving. For women this is 87% of the recommendation and for men 74%.
(Figures are based on Dutch guidelines)
Food choices for climate
Our diet is one of the things that have a lot of impact on the climate. You can pay attention to the following points to lower the "footprint" of your diet:
Eat plant products more often: plant products have less impact on the climate than animal products. You can alternate meat or fish with, for instance with legumes such as chickpeas, lentils and brown beans, tofu, tempeh, nuts and vegetarian burgers. However, it is important to add one or more of these protein sources to your dinner and not just leave out meat/fish. It contributes to intake of sufficient protein, as well as iron, calcium and B vitamins, among others.
Eat fruits and vegetables from the season. You can find handy lists of these on the websites of milieucentraal and Voedingscentrum. You can also make sure that the products you buy come from the Netherlands as much as possible. This also provides less impact on the environment.
Do not waste! What can help you with this: before you go shopping, check what you still have in the house. Always go out with a shopping list. Prepare the product that needs to go first first. Make a leftover dinner at the end of the week or freeze leftovers so you can eat them another time.