COMMA Festival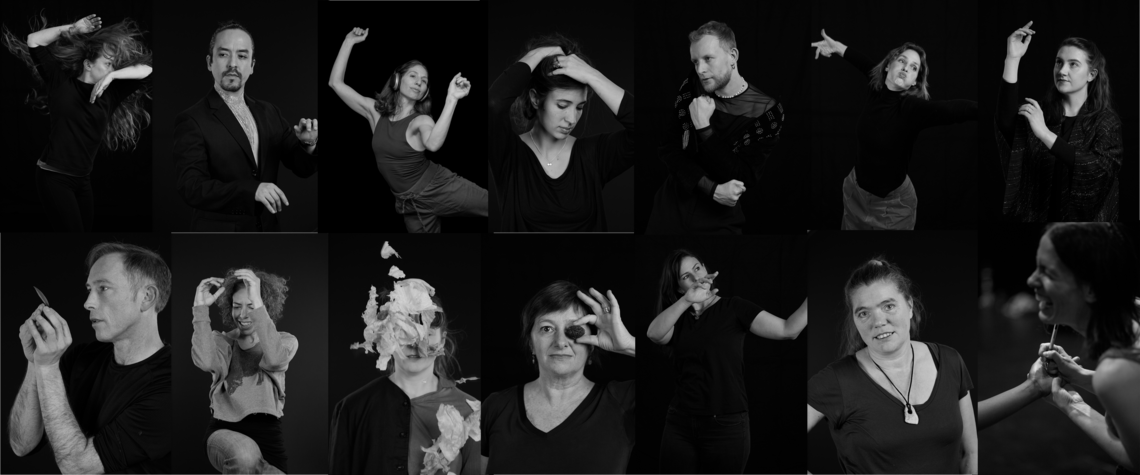 On 24 - 27 May 2023 new works of the fifteen makers and choreographers from dance, circus arts, dance education and community arts will be live at various theatres and locations in Rotterdam under the banner of the #3 COMMA FESTIVAL.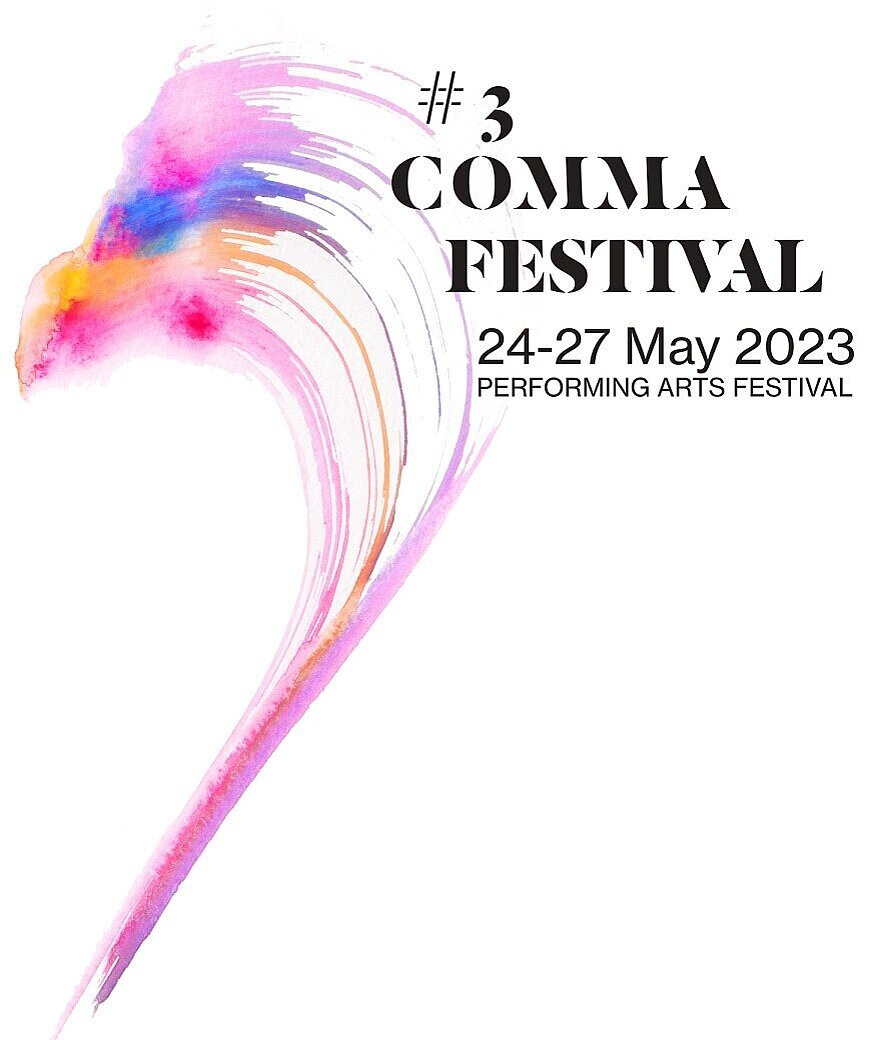 The Master Choreography COMMA (a joint degree between Fontys in Tilburg University of Applied Sciences and Codarts Rotterdam University of the Arts) is proud to present the Final Projects of its third graduating cohort.
On 24 - 27 May, 2023 new works of the fifteen makers and choreographers from dance, circus arts, dance education and community arts will be live at various theaters and locations in Rotterdam, The Netherlands under the banner of the #3 COMMA FESTIVAL.
For two years these fifteen makers and choreographers have been part of a community of creative and reflective artists. A community where craftsmanship, co-creation, reflection, artistic research, reflection, vision, signature, leadership, and innovation are key motivators for change.
This festival aims to present within the wider scope of the international dance world, The Netherland's performing arts and higher education the vision of COMMA and its current cohort. But most importantly the festival gives this second cohort of COMMA a platform for their new work to be seen and performed.
Below you download the programme
Meet the COMMA Choreographers:
Hi, I'm Bas,

I used to lip-sync and dance to Madonna's Frozen in primary school. Performing simply felt good.
I studied at Codarts, Rambert School of Ballet and Contemporary Dance and Utrecht University. Dance was my first love, but quickly became entangled with theatre, visual art and philosophy.

My labels are choreographer, theatre maker, dramaturg, guest lecturer, creative consultant and group facilitator. In other words, anything that involves bringing people together and facilitating exchange, innovation and change.

So far, my art has been exhibited at Apiary Studios (UK) and Pictura (NL). I have performed and worked with Theatergroep Gras, De Dutch Don't Dance Division, Mayumana, Evie Demetriou, de Kunsthal, and het Nieuwe Instituut. My own projects include the video work Als je het vertelt, the duets Sunset Orange and Kunst and the theatre show Wat Nu?.

Perhaps I am kind of like Madonna without the gap in my teeth. Kind of like Sylvie Guillem without the technique. Kind of like Oprah without the billions. Kind of like Keith Haring without the painting skills. Or more accurately, very much myself and inspired by a wide range of people, ideas and things.

Born in Torino in 1989, Cristina grew up fascinated by bodies in motion. Climbing trees, hiking, ice-skating, and dancing have nourished her interest in the different forms of physicality, leading to a 15-year career as a choreographer, performer, and contemporary dance teacher. In addition, she is passionate about creating objects with her hands, growing vegetables, extracting potions and transforming raw materials. Cristina is now a mother of two and lives in Birmingham with her family.

During her career, she toured internationally as a member of the Italy-based TPO company, a pioneering dance company using interactive technology in performances for young audiences. She collaborated with several acclaimed choreographers and directors as a freelance performer, including Romeo Castellucci, Jasmine Ellis, Anton Lachky, Ryan Mason and Cindy Van Acker. She worked as a faculty teacher at the Iwanson International School of Contemporary Dance. She is also among the co-founder of FIKA, a dance company based in Florence.

Cristina has been developing her choreographic work since 2016, and her pieces have been staged in several European venues. Her research has focused on exploring identities and human relationships, as well as the material and immaterial connections between people and the artificial, natural, and imagined spaces they inhabit. More recently, she has used notions of reflexivity, positionality and situatedness to explore the inner and outer transformations of moving pregnant and ageing bodies.

Cristina Pereira has been part of the faculty of the National Conservatory, Portugal since 1989, having been Director, Program Director, Contemporary, Contemporary Repertoire teacher.

Her career as a dancer stands out: "Dance Kaleidoscope Dance Company; "Dances by Diane Gray", as a soloist, "and Martha Graham Ensemble". (USA)

Teaching, she was assistant to Diane Gray (director of Martha Graham Dance School and President of American Dance Masters, and a Contemporary Dance teacher at the School of the National Dance Company. (PT)

Has been an invited teacher at CODARTS, Cinevox Dance Company, the National Dance Company in Portugal, FOR, Olga Roriz, and PARTS auditions.

Was invited to teach and be part of the Jury by the FA Foundation for the International Dance Festival, in (Th) for the DanzaSì competition, (IT) among others. Represented EADCN, as a partner, in the Prix de Lausanne.

She was responsible for the dance department at Coimbra Conservatory, having the functions of Pedagogical Director, Coordinator of the Dance Department, Contemporary, Repertoire, and Composition teacher.

She Is the co-founder and co-director of INTRANZYT Cia. ®, Portugal.

She is part of the 2023 – COMMA: Co-creation of Movement Masters of Arts with a scholarship from the Calouste Gulbenkian Foundation.

As a young girl I remember dancing my father to tears -every Sunday morning, and seeing my mother wave frantically, arm up high in the air, from whichever auditorium, straight as I would enter the stage.
That immense presence of pride, and the hunger for any type of physical sense of embodiment and
adventure, brought something addictive as much as healing while dancing and sharing dance, and that
soon became a decided destination.

In 2000, I graduated in Dance and Education at Fontys School of Fine and Performing Arts and now, over 20 years later, I decided to return and provoke myself in another academic learning journey through the Master in Choreography COMMA.

Performing and collaborating in works from artists such as: Sharon Eyal & Gai Behar, André Gingras, Conny Jannsen, Jorma Elo, Daniela Kurz, Stijn Celis, Saskia Boddeke and Peter Greenaway, Eckly & Spreafico, Guido van der Werve, and Portuguese artists, such as: Rui Horta, Paulo Ribeiro, Helder Seabra, Marco da Silva Ferreira and Mafalda Deville, I feel incredibly thankful for having had such a diverse and fun performing career.

As a pedagogue, I have had a continuous journey since the last ten years in several Artistic Educational institutions in the north of Portugal, in Escola Superior from Lisbon, as well as teaching in independent projects for young professional dancers like Oficina Zero and FAICC in Porto.

As a maker I started around 2012 and collaborated with different theatres and artistic institutions in Portugal such as, Palcos Instáveis -Porto, Teatro Rivoli – Porto, and Kale Dance Company in Porto.

I feel driven by socio political issues, environmental issues as much as any other issue that comes along with living on planet earth in 2023. To digest them within art, either to revolt against or to tackle and sensitize about issues, is the privilege that I have been practicing for a good decade now. During this Master journey I dived into my way of translating, somehow wanting to understand better my own absurd universes, focusing specifically on choreography and critical laughter.

Evie is a dance maker and performer based in Cyprus. Through a multidisciplinary approach of dance, theatre, video and performance art Evie's work reflects on topics related to social justice and politics of care. She has been exploring and exposing issues to do with womanhood, patriarchy, identity, sexuality often from a feminist perspective with a playful approach. In her work she often involves the exploration of personal worlds of experience and how these relate to normative power orders.

Primarily a solo choreographer/ performer with also several group choreographic works, her staged works toured in 17 European Countries as well as in Asia (S.Korea) and Africa (Kenya). She has co-directed and performed in videodance and underwater films.

She studied dance at Trinity Laban Centre Conservatoire of Music and Dance in London and with scholarship at Limon Institute in New York. She is a 2004 Danceweb scholarship recipient (Impulstanz Festival), a travel grant recipient from the E-motional European Programme 2011-2014. She was an invited artist at "Act Your Age" programme, a European collaboration between Centro per la Scena Contemporanea (Italy), Dutch Dance Festival (Holland) and Dance House Lemesos (Cyprus), where she presented the video installation "My mountain" in collaboration with Lucy Cash at Lanitis Foundation in Cyprus and Jan Van Eyk Academy in Maastricht, Netherlands.

Fernando Domínguez Rincón

Fernando Domínguez Rincón (Mex. 1987) has a BA degree in contemporary and modern dance (2011. CODARTS Dance) and completing a MA degree in Choreography (2023. CODARTS – FONTYS), both studies in The Netherlands. He has built a career as a dancer, teacher, choreographer, dramaturg, and filmmaker.

Founder and Director of FDR DANCE, he has produced international exchange projects between Europe and Mexico, with companies such as Nederlands Dans Theater, Budapest Dance Theater, Hamburg Dance Company, and official partner of Eurasia Dance Project International Network.
As a dance filmmaker, awarded more than 50 times worldwide, including Best Short Film for LGBTQ+ at Cannes Short Film Festival (2015).

As a choreographer in companies such as Ballets de San Juan Puerto Rico, CODARTS Dance Company, CEPRODAC, Hamburg Dance Company, and docent in institutions such as CDSH –Contemporary Dance School Hamburg, ESMDM, University of the Arts Aguascalientes, among others.

As a dancer, in projects like '50 years NDT Van Manen / Kylián for Young Dancers", Het Lab Utrecht, De Dansers, among others. He danced repertoire by Jiri Kylián, Hans Van Manen, Lucinda Childs, Martha Graham, Lila López, Keith Derrick Randolph, Adriaan Luteijn, Liat Magnezy, Arno Schuitemaker, and Melissa Ellberger, among others.

Dominguez completed fellowship studies at American Ballet Theater (2006. N.Y) awarded by YAGP – Youth America Grand Prix

Finnish choreographer Linda Kuha has worked in the professional dance field in Finland, Belgium and the Netherlands since 2009. In her artistic work she creates improvisation scores and uses playful and layered movement material. Kuha loves humour and playing with movement, but takes it very seriously. She is forever interested in humans and the societal aspects of one's life experiences.

Kuha has worked as a dancer in Danscompagnie Lune in Belgium with choreographers
Roberto Olivan and Jennifer Regidor, as well as in various dance productions of Pirkanmaa Dance Centre in Finland. In 2016 she was selected as House-artist at Liikelaituri, Tampere, to create her piece More than 9 months, which was awarded with Simpukan Helmi-price. In 2013 Kuha co-founded Dance Theatre Liikeri, in which she has (co-)created dance pieces and worked as a dancer.

At this moment Kuha is exploring presentation of identity and authenticity (podcast Joku tanssii jossakin 2021-2022, solo Ceci n'est pas moi, 2023). She uses life experiences as material for improvisation scores and blends the abundance of movement with text.

Falling in love with acrobatics more than 30 years ago enlightened the circus career she has today Marjolein uses circus in performing arts, as a tool for personal development and a way of life. She has two professional circus practices, teaching and performing.

With her company (founded in 2007) Compagnie with Balls, she produces, choreographs and performs about 80 shows a year in and outside Europe. Highlights were at The Ansan festival in South Korea, Lowlands (NL) and Just pour Rire in Montreal (CAN) www.compagniewithballs.com

After a long career as circus teacher, she now coaches others to develop their teaching skills and help them becoming specialists in their field and in the field of social circus. She has a master of Education in Arts, specialized in learning through circus. Experiential learning and an eye for making arts in the environment available for all audience, makes her a passionate social artist.

'What I want in life is to make people shine, put a smile on their face because they are amazed by what they see, or they amaze themselves by doing something they were not sure about that they could'

As a choreographer and director, Marlyn Attie is characterized by a collaborative and experimental style, where performers, artists and professionals from other disciplines, contribute to the creative process, enriching it and expanding the possibilities of dance expression.

Since 2016 she has created original pieces, which have been presented in Panama, Dominican Republic, Belgium, Rumania, Canada and Spain. As founder and co-director of Fundación Espacio Creativo (FEC), she has led for more than 10 years a youth protection program in Panama. In 2021, as she started to work on the COMMA program, she also founded COCO, a contemporary dance company based in Panama.

Throughout her career she has received creation funds from institutions such as the Ministry of Culture of Panama, the Embassy of the United States in Panama, Iberescena, the Inter-American Development Bank, among others.

Her academic background in business from the Wharton School of Business at the University of Pennsylvania, her Art studies at Sarah Lawrence College on its campus in Florence, Italy, and a recent certificate in Personal Leadership from the Graduate School of Business at Stanford University, have been complementary tools for her training as a dancer, that Marlyn has put at the service of the Panamanian artistic community.

Olga Blank (*1989 Kazakhstan) is a choreographer, puppeteer and teacher living in Germany. In her artistic work, she explores an interplay of puppetry and dance through an embodied approach. In connecting dance, theatre, the animation of puppets and objects as well as scenography, she conveys stories in a poetic way.

She completed a Master of Arts in Literary Studies at RWTH Aachen University and acquired the certificate "Creating Dance in Art and Education" by the University of the Arts in Berlin. In the field of puppetry, she participated in master classes with Duda Paiva, Neville Tranter and Anne-Kathrin Klatt. As performer in various puppetry and dance productions, she toured through Germany, Belgium, France, Luxembourg, England, and the Netherlands. She has worked among others with Compound Company (GER), Fithe Puppet Theatre (B), Theater Aachen (GER) and Duda Paiva Company (NL).

Dance Festival Schrit_tmacher GENERATION 2 invited her as choreographer to create an original piece for their project Co-Laboration – the duet Losing Ground premiered in Heerlen (NL) in 2021. Tales in the Dark, a dance theatre with life-size puppets played by young performers, was awarded with Fritz-Wortelmann-Prize 2021 by the city of Bochum (GER) and was invited to fiGUMA Festival in Belgium.

www.olga-blank.com

Petra Zanki is an award-winning Croatian choreographer and dance-maker. Petra was nominated as the best young choreographer in 2010 at Zagreb Dance Platform, and granted multiple residencies across Europe, including a two-year choreographic scholarship from ICK-Amsterdam/Emio Greco and Croatian HIPP-TSP, in 2012-2013. Her works have been shown across Europe, the US, Canada, the UK, and Australia.The idea of the role of dance in her work was changing over time due to the different changes in the country/ies she was living (born in Yugoslavia, growing up during the war, becoming EU citizen in 2013, and then US citizen in 2018).

In succession of different regimes and systems on power, from communism to capitalism, her perception of art and dance altered, making her aware of the fragility of any construction, art as no exception. Growing up in Croatia during the war, Petra's main interest remains the transformation of pain into landscapes of beauty for the benefit of humanity.

From an early age, Tamar finds comfort and joy in music and dance. They become a driving force throughout her life. She studies contemporary dance at the Amsterdam School for the Arts, with an internship at Broadway Dance Center and Two Cities productions in NYC. After graduation, her desire to find a stronger connection between dance and music leads her to flamenco.

She moves to Seville (ES) and receives her flamenco education from a variety of renowned teachers, at academies such as Fundación Cristina Heeren and Artes Escenicas Rebollar. In 2014 she receives a scholarship from the Prins Bernhard Cultuurfonds (NL). Over the next years, she builds a life in Spain and her work as a flamenco dancer takes her around the world.

After years in flamenco she reconnects to contemporary dance, using her experience with flamenco to bring musicality and human expression to the center of her work. She takes part in a wide variety of projects, collaborating with contemporary and flamenco dancers, musicians and video artists. Today, she continues to dance and create in between flamenco and contemporary dance. Since 2022 she collaborates with Intranzyt Cia. (PT) on a regular basis. In 2023 she will obtain her Master's degree in Choreography from Codarts and Fontys

Thomas is an Edinburgh-based choreographer, performer & maker who draws inspiration from themes related to nature, philosophy and science. His recent work is concerned with emergence, behaviour, and (eco-)systems in nature and the role we play as part of these systems. Thomas discovered dance through an improvisation class and has since explored a range of contemporary dance practices.

After graduating with a degree in biology & geography he completed a PhD in ecology at the University of St Andrews (Scotland). Following a desire for more formal dance training he studied at the Scottish School of Contemporary Dance (Dundee) and began his choreographic practice by working with student groups in St Andrews. This led to two larger-scale productions (e.g. 'Noumena'). A consecutive move to Edinburgh piqued an interest in engaging more with environmental themes.

The Covid pandemic re-ignited his life-long interest in working outdoors with a focus on discovering movement languages that are intrinsic to natural sites. Thomas is currently doing an MA in choreography (COMMA) at Codarts with the aim of diving deeper into artistic research and choreographic practices.

Virág is a Hungarian modern mime with a strong dance background, fascinated by location, site specific and concept based real time composed work. Besides performing and teaching worldwide, she creates music theatre productions for the youngest audience. Her intense work with musicians culminated in the research and development of her own pedagogical and choreographic approach MoM / Musicality of Movement.

Since 2009 she is located in the Netherlands and took over the artistic leadership of MAPA, the Moving Academy for Performing Arts, created its laboratory theatre Studio MAPA Nederland in Haarlem, and the online digital library 'PhysicalTheatreTraining' for sharing knowledge within the field of performing arts. At COMMA she is investigating the dramatic relation between silent body movements and playing a musical instrument at the same time.

www.musicalityofmovement.com
www.mapa.nl
www.physicaltheatretraining.com

Femke is Belgian, choreographer, aerialist & dancer.
She creates work for site-specific locations, public spaces, natural environment, on vertical planes and in the void.

She is founder of compagnie KAIROS, initiator of the platform THIS IS NOT A CONVERSATION, and is a board member of the Dutch association for Outdoor Arts Artists.

Her work is connecting to (self-) awareness and nature, in the pursuit of reflection and food for thought. Most of the work is performed in nature, involving trees and the natural soundscape. As a dancer and an aerialist she found a voice that merges both worlds and defines this work as Suspended Choreography.

Femke is also a teacher, coach, advisor, rigger, stagemanager, show-caller, stuntcoach, assistent choreographer and assistant director. For dance, opera, circus, theater, events, orchestra's, choruses and outdoor theater.

Some choreographers and directors Femke worked with are Amir Hosseinpour,
Jonathan Lunn, Anne Teresa De Keersmaeker, Thierry De Mey, Philippe Giraudeau, Satya Roosens, Jack Timmermans, Ronald Wintjes, Anne-Lore Baekeland, Serge van Veggel, Stefano Simone Pintor, Pierre Audi, David Alden, Tido Visser, Simon McBurney, Robert Carsen, Romeo Castellucci, Richard Jones, e.o.
The festival takes place at different locations in Rotterdam: