Voice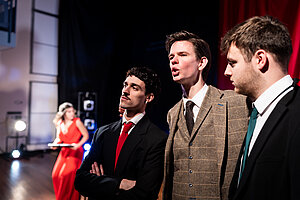 If you have chosen Classical Voice as your main subject within Codarts Classical Music than we are here to help you as a team. Our expertise and specialist knowledge are unique in the Netherlands. We will coach you to become a skilled, creative and widely employable professional — as that is what the professional field demands.
Why study Classical Voice at Codarts?
At Codarts you will develop yourself to become an independent and entrepreneurial singer; an all-round professional. We prepare you for a career in a world of music that is always changing. You, the student, take centre stage in an extensive programme where you discover your strength and your artistic signature. Upon graduation you will know what makes you unique.
Programme
Over the course of your training, we will work on a solid and healthy vocal and technical foundation, coupled with musicality and knowledge of various genres and styles.

Weekly activities are:
Main subject voice lessons
Vocal coaching lessons by coaches
Interpretation classes for all students on Thursday afternoons, taught by the main subject teachers and guest teachers from the professional field
Physical acting lessons
Ensemble and choir singing
Drama
Language classes: Italian, French, and German
Song class, together with the piano section
General subjects: piano, theory, and practical harmony, rhythm, history

In addition:
Public vocal performances
Master classes by, among others, Margreet Honig, with whom Codarts has a long-term exclusive collaboration
Presentations by the song class and drama class
Audition training and auditions for professional organisations from the professional field
Returning yearly activities:
Ensemble and choir projects, often in collaboration with Laurens Academie
Opera projects, often in collaboration with Domestica Rotterdam
One project together with the Music Theatre department
Phases of the study programme
If you are a student in the preparatory course, you will work with the main subject teacher Classical Voice each week. You also take part in all joint activities of our section Voice, including vocal performances. Together with a Codarts teacher you work on preparing for your theoretical entry exam for a Bachelor's study programme in Music.

During your Bachelor's, the focus is on developing a solid vocal-technical foundation, coupled with musicality and a sense of style. Laying this foundation during the weekly classes by the main subject teachers and the other teachers is crucial for a long and successful career. At Codarts team teaching is very important, as is evident from the weekly interpretation classes on Thursday afternoons. In these classes you work with a different main subject teacher and with external teachers such as Margreet Honig, who will give master classes. During coaching, much attention is given to breathing and body awareness, which will be further elaborated in drama and physical acting lessons. We also place much emphasis on strengthening your professional network outside the school through projects, auditions and master classes.

Within the Master's phase, the weekly class by the main subject teacher and the lessons with the coach take central stage. As a Master's student you can participate in all the projects of the section, such as opera productions, choir projects, master classes, auditions and concerts. You can also join voice-specific subjects such as drama, song class, languages, physical acting class, and theory. During this phase, you make your personal profile more profound by doing artistic research that is linked to the main subject and is aimed at your further development as a singer.

Codarts alumni are active in both the Netherlands and abroad, in opera houses and oratori, in chamber music and music theatre, in professional choirs and ensembles, and as teachers.
Teachers
Henk Neven - Main subject teacher voice
Marcel Reijans - Main subject teacher Voice, section coordinator voice
Charlotte Riedijk - Main subject teacher voice
Daan Boertien - Coach
David Bollen - Coach
Maarten Hillenius - Coach
Jan Willem Passchier - Répétiteur, coordinator song class and drama projects
David Prins - Teacher drama
Wiecher Mandemaker - Teacher choir
Cora Schmeiser - Teacher German
Anna Marieke Zijlstra - Teacher French
Stefano Orlando - Teacher Italian
Cora Peeters - Teacher professional didactics
Alet Slokkers, Teacher speech therapy
Virág Dezsö - Teacher physical acting class
Contact
Interested? Mail your questions to classicalsinging@codarts.nl.
You are welcome to attend a trial lesson or have a look around.